Dr. Galina and our team are driven to help you look better, feel better, and be healthier. We are proud and excited to offer our patients a variety of smile and health enhancing procedures including:
Cosmetic Dentistry
A beautiful smile radiates happiness, warmth, and confidence. Your smile plays an important role in your relationships and in your personal and professional life. Cosmetic dentistry blends the best of science and art to create restorations that not only improve your appearance, but also improve the strength, function, and longevity of your teeth. Through the artistic process of veneers, crowns, bonding, Invisalign, and whitening we can create the smile you have always wanted in as few as two appointments.
Discolored, worn or crooked teeth and gaps can be transformed into a beautiful, natural looking smile.
You deserve to look and feel beautiful and with the new advances of cosmetic dentistry that we offer at City Dental, you can! Call us and see how we can help you!
Click here for more information
---
Veneers
Not everyone was born with a perfect smile, but everyone can have one! Your dream of having a dazzling smile can now be made possible with the advanced technology of porcelain veneers and our artistic and flawless touch at creating stunning makeovers. Veneers are thin shells of porcelain that cover only the front portion of your tooth. In just two visits, veneers can straighten, lengthen teeth, close spaces between then and change their color. Veneers virtually become part of your teeth, and the end result is a beautiful, natural looking smile! We invite you to discover what we can do for you!
Click here for more information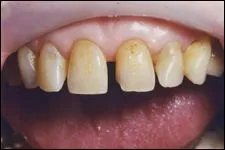 ---
Teeth Whitening
The professional whitening that we offer through our office is a wonderful way to remove stains and improve the overall appearance of your smile. We currently offer our patients two whitening options. Our fabulous in office power whitening provides remarkable, instant results creating a brighter, vibrant smile in just a one hour appointment! We are sure that you will love the immediate results and your new dazzling, youthful smile! We also offer a traditional option that allows you to conveniently whiten your teeth in the comfort of your own home over a period of a few days. Call us with any questions and let us help you with a new, bright, white smile!
Click here for more information
---
Implants
Implants are synthetic structures that are placed in the area of the tooth normally occupied by the root. Implants are anchored to the jawbone or metal framework on the bone and act as a foundation for an artificial tooth or permanent bridge. In some cases, implants can be used to attach dentures.
Implants are so well designed that they mimic the look and feel of natural teeth. Implants are usually made of a synthetic yet biocompatible material like metal or ceramic.
Surgery is necessary to prepare the area for an implant and place the implant in the mouth. Following the procedure, a period of time is required for the implant to take hold and for bone tissue to build up and anchor the device. In some cases, metal posts are inserted into the implant during a follow-up procedure to connect the tooth.
Click here for more information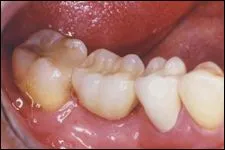 ---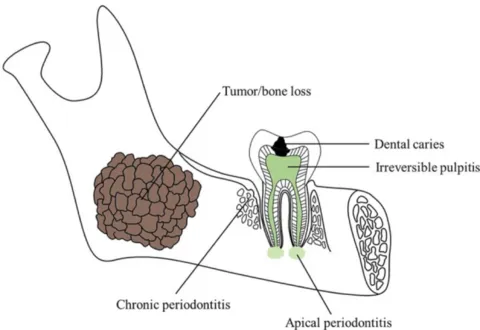 Dental Stem Cells
Regenerative medicine is changing how damage tissues and organs are treated.
Stem cells present a tremendous treatment oppurtunity.
Uses of stem cells in dentistry include:
*TMJ problems
*Periodontal diseases
*Gum Disease
*Inflammation related conditions
*Dry Mouth
*Salivary gland disease
*Trigeminal neuralgia
*Expedited healing after dental surgery
Click here for more information
---
Periodontal Disease
Periodontal bacteria have been infecting your foundation. Your gums are an important foundation for your teeth and provide stability for all of your dental work-so it's important to keep them healthy. However, your dental professional identified a chronic bacterial infection in your gums known as periodontal disease (gum disease).
Important facts about periodontal disease
Periodontal disease is the #1 cause of adult tooth loss in the United States
This silent infection occurs when harmful bacteria travel beneath the gum line and create "pockets"-spaces or gaps in the gums around the teeth
If left untreated, periodontal bacteria can lead to bone and tooth loss that threatens your foundation
Infected periodontal pockets are usually 4 or more millimeters (mm) in depth
The role of your dental healthcare team
The good news is that there are effective treatments available for periodontal disease. Your dental healthcare team, which typically includes your dentist, your hygienist, and sometimes your periodontist-chooses the most effective method of treatment for your infection and is dedicated to helping you fight periodontal disease.
The treatment your dental healthcare team selects is designed to:
Reduce the bacteria causing your infection
Shrink the size of your periodontal pockets
Manage your infection to stop it from spreading or becoming more severe
That's why a dental health care team often decides to add a locally administered antibiotic (LAA) such as ARESTIN®.
Adding ARESTIN® (minocycline hydrochloride) Microspheres, 1 mg
ARESTIN® is a small amount of antibiotic powder that is easily applied by a dental professional.
Clinical studies show that ARESTIN® + SRP is more effective at shrinking the size of infected periodontal pockets than SRP alone
ARESTIN® remains in the pocket for up to 21 days -to help ensure continued treatment
ARESTIN® is safe and easy for your dental professional to administer
Ask your dental professional to use this chart to highlight the areas of infection inside your gums.
Click here for more information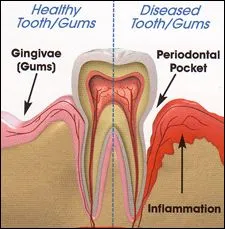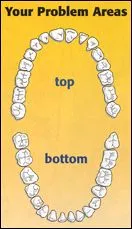 ---
Invisalign
You are worthy of an extraordinary smile, but that doesn't mean you have to go through brackets and wires for years. Invisalign® is an ingenious new system designed to straighten teeth discreetly, with inconspicuous aligners rather than metal braces. The Invisalign® system uses clear, custom made aligners to gradually move teeth into proper alignment. Patients progress to a new aligner every few weeks. The aligners are clear and thin and also removable, making eating, drinking, and brushing much simpler. When complete you are left with a spectacular and flawless smile! Let us show you how easily we can accomplish this!


---
Crowns
Crowns are synthetic caps, usually made of a material like porcelain, placed on the top of a tooth.
Crowns are typically used to restore a tooth's function and appearance following a restorative procedure such as a root canal. When decay in a tooth has become so advanced that large portions of the tooth must be removed, crowns are often used to restore the tooth.
Crowns are also used to attach bridges, cover implants, prevent a cracked tooth from becoming worse, or an existing filling is in jeopardy of becoming loose or dislocated. Crowns also serve an aesthetic use, and are applied when a discolored or stained tooth needs to be restored to its natural appearance.
Click here for more information
---
Root Canals
Root canal therapy is a remarkable treatment with a very high rate of success. It involves removing the diseased tissue, halting the spread of infection, and restoring the healthy portion of the tooth. In fact, root canal therapy is designed to save a problem tooth; before the procedure was developed and gained acceptance, the only alternative for treating a diseased tooth was extraction.
Click here for more information
---
Tooth Colored Cosmetic Fillings
We place only the highest quality tooth-colored composite or porcelain fillings. Unlike amalgam fillings, our restorations are mercury-free, contain no toxic metal or material, and are placed with the most tooth conserving techniques. They are strong and durable and provide resistance against future fractures. The tooth colored material makes the procedure indistinguishable from your natural teeth.
Click here for more information
---
Sealants
The pits and grooves of your teeth are prime areas for opportunistic decay. Even regular brushing sometimes misses some of these intricate structures on the chewing surfaces of your teeth.
Enter sealants, which are thin coatings applied to the chewing surfaces designed to prevent the intrusion of bacteria and other debris into the deep crevices on the tops of your teeth.
Sealants actually were developed about 50 years ago, but didn't become commonly used until the 1970s. Today, sealants are becoming widely popular and effective; young children are great candidates for preventative measures like sealants because in many cases, decay has not set in. Even on teeth where decay is present, sealants have been shown to fight additional damage.
Sealants are applied by first cleaning the tooth surface. The procedure is followed by "etching" the tooth with an abrasive substance, which allows the sealant to better adhere. After the sealant is applied, a warm light source is directed to the site to promote faster drying. Sealants usually need re-application every five to 10 years.
Click here for more information
---
Night Guards
Whether you are an athlete or casual sports participant, you should wear a mouthguard to protect your teeth. If you grind your teeth while you sleep, a bite guard will help reduce symptoms of TMJ. We custom make mouth guards in both soft and hard materials.
Click here for more information
---
Mouth Guards
Whether you are an athlete or casual sports participant, you should wear a mouthguard to protect your teeth. If you grind your teeth while you sleep, a bite guard will help reduce symptoms of TMJ. We custom make mouth guards in both soft and hard materials.
Click here for more information
---
Bad Breath (halitosis)
Bad breath is a common affliction with many people. When it advances or doesn't go away, it becomes known as chronic halitosis.
Bad breath is caused by decaying particles/general/ of food and bacteria that pass into your bloodstream and to the lungs, where odor is emitted from breathing.
While people spend lots of money on products that treat the symptoms of bad breath, they often neglect to take steps to address the root causes of bad breath-such as bacteria, and decaying food particles/general/ remaining in spaces between the teeth, on the gums and on the tongue. In many cases, good daily oral hygiene, including brushing, flossing and rinsing, can keep bad breath in check. This also applies to denture-wearers.
Other conditions, such as gum disease, can cause persistent bad breath. Under normal conditions, your saliva acts to cleanse your mouth of the particles/general/ that can decay and later cause bad breath. People with a condition known as dry mouth, in which saliva production is diminished, can sometimes suffer from bad breath. Of course, if you eat certain kinds of food (like garlic and onions), take certain kinds of medications, or smoke cigarettes or cigars, you may also experience symptoms of bad breath.
In some cases, persistent bad breath may be a sign that you have a more serious health problem, including a gastrointestinal, respiratory or sinus problem.
In most cases, over-the-counter mouthwashes and rinses will temporarily freshen breath, but only mask the root cause. The American Dental Association acknowledges the effectiveness of some anti-microbial mouth rinses that are shown to reduce plaque and gingivitis. Good oral health habits can contribute to reducing and eliminating halitosis: brushing and flossing daily as well as regular professional cleanings performed by our office.
Oxy Fresh Power Kit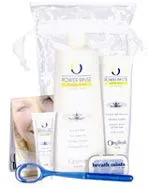 This kit is recommended for those who enjoy the fresh lemon-mint flavor and prefer a gel over a paste formula. This kit contains the exclusive proprietary ingredient Oxygene®, combined and patented with zinc acetate to offer maximum breath protection throughout the day. This particular system contains no sodium lauryl sulfate for those whose tissues are irritated by this foaming agent or tend to develop frequent aphthous ulcers.Contents Include:
Power Rinse - 16 oz.
Power Paste - 5 oz.
Super Relief Gel - 1 oz.(US)
Oxidizing Dental Gel - 1oz.(CANADA)
Oolitt® Elite Tongue Cleaner
Breath Mints
Dental Brochure
Dental care instruction card
Clear drawstring bag
Home Care Made Easy
Oxyfresh just made home care simple and convenient with customized dental kits you can start using right away. Using the same professional-grade, patented dental products Oxyfresh is known for, these kits are custom-designed and prepackaged in one convenient, high-quality drawstring gift bag. They are handy and come completely packaged as a home care system to take the guesswork out of what you should be using.
Ideal for
Maximum breath protection
Electric toothbrush users
Dry mouth sufferers
Those who can't or prefer not to use products with SLS
Those undergoing chemo and/or radiation therapy
Cosmetic support
Long-term supportive periodontal maintenance
Those who like a zesty lemon-mint flavor
---
For missing teeth, we can make dentures or removable partials for you.