Welcome to Our Practice
Cosmetic Dentist Los Angeles, CA - City Dental
The Los Angeles Dentist That Keeps The Focus On You
Welcome to the City Dental family of patients! Everyone here is dedicated to your well-being, and we make that clear from the moment you enter our Los Angeles dentist office. We provide you with the best treatment options available, all administered by our highly trained dentists and staff. City Dental is the LA dentist who listens to your unique concerns and responds to your needs, giving you painless, quick, and easy treatment. Whether you're looking for cosmetic dentistry or treatment for a chronic condition, our staff works hard to make sure you are comfortable and healthy.
Excellent Los Angeles Dentists
At City Dental, we hold our entire office up to a rigorous standard of quality. We use cutting edge treatments, bringing new, advanced options to our patients as quickly as we can. When you schedule an appointment, we make sure that your concerns get the attention they deserve from our professional and courteous staff. From the comfortable waiting room to the calm atmosphere, our dental staff will ensure that your visit is pleasant and productive.
If you are suffering from chronic pain, we do our best to help make you comfortable when you leave our office. Once you've been treated, we invite you to return to our Los Angeles dentist office to benefit from our advanced techniques of preventative care, helping make sure you won't have to face the same painful condition again.
A Los Angeles Dentist With Unique Vision
If you are looking at cosmetic dentistry rather than diagnostic, you will appreciate the artistic touch of Katherine Galina, DDS. Dr. Galina is a Los Angeles dentist who views cosmetic dentistry as art. You deserve to have a beautiful smile, and Dr. Galina can help you visualize and sculpt that smile. As a premier LA dentist, she has extensive experience working with veneers, implants, and other tools of cosmetic dentistry, allowing her to find the best solution for you.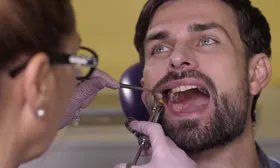 Introducing a life changing procedure at City Dental, DENTAL STEM CELLS
Dr. Galina works with regenerative medicine to improve dental treatment. Regenerative medicine repairs damage or diseased tissue. With the help of specialist stem cells can be guided to grow into specific types of cells.
Dr. Galina knows that every patient is unique, and she approaches every consultation with new eyes. Unlike some LA dentists, she doesn't try to force your teeth to become ordinary; she works with you to bring out and highlight your own natural beauty as painlessly and easily as possible.
Better Care, Better Information
At City Dental, our dentists believe that every patient benefits from being informed. Please look around our website for more information about the different dental services we provide, and don't hesitate to contact our Los Angeles dentist office with any questions. Don't delay - your best smile is waiting!